Traveling To and From Hotel Oslo-Coimbra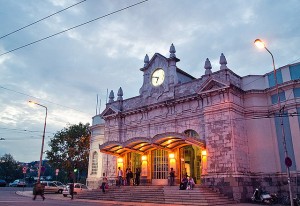 There are only 2 train stations in Coimbra, but it can get confusing though. We will help you make some sense of it.
If you are looking for a hotel in Coimbra close to the train station, you'll find our location quite convenient.
Directions to Coimbra Train Stations:
Central Train Station: Coimbra – A
Hotel Oslo Coimbra is less than 100 meters away from Coimbra-A train station. National trains only stop at Coimbra-B station but there is a free connection to Coimbra-A.
Coming out of the station through the main door, take a left, opposite to the river.
Take a look at the map for detail on how to quickly reach us.


Coimbra – B Train Station
Coimbra-B train station is mostly a connecting station between national, regional and local trains. It is located just outside Coimbra. If you take a national train from Porto or from Lisbon to Coimbra, it will certainly stop there. All tickets will include a free 5 minute ride to Coimbra-A. To find your way to the city center you should change trains by looking for the trains heading to "Coimbra" in the screens. Hotel Oslo Coimbra is closely located to the central station.
Tip: Usually you would find a connection within a few minutes, but sometimes there may be longer periods when there are no connecting trains. If so, you might want to take a taxi. A ride to through Coimbra to the hotel won't cost you more than 4,00 euros.